Posted by , Last modified by Mia C. on 10 June 2018 04:36 PM
Jackpot
is another option to get more G-coins to spin.

- To take part in the Jackpot competition you should spin to fill the progress bar until reaching the required number of points.
- Each spin from every player, regardless of the tier and level, contributes to the Jackpot.
- Only one player can win the Jackpot.
- The winner is chosen every 3-6 hours out of the players who completed the progress bar and are online and spinning at the moment the Jackpot is being hit  
There are 3 basic states of the Jackpot feature which are the following:
1) "Coming soon" - no jackpot is available at the moment. When an inactive statement "Coming soon" changes, it means the Jackpot competition has started.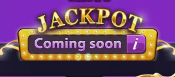 2) When there is a progress bar, you are gaining points to qualify for the Jackpot.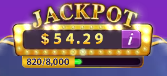 3) After receiving the required amount of points, there will be only The Prize pool changing.
---