What is the Golden Slot and where can I find it?
Posted by , Last modified by on 28 July 2017 02:23 PM
Golden Slot is a special symbol that you need to find somewhere in the game to complete the corresponding step of a challenge.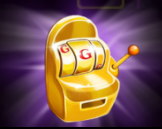 It may be hidden in any part of the game including slots, lobby or your friends' list. 
Hints in the challenge description will help you find where the Golden Slot is located.

All you need to do is to find it anywhere in the game and click on it.
After that, you need to go to the "Challenge" section of the game and collect the reward for the task.
---